Cart Contents
Your cart is currently empty
Subtotal: $0.00
Categories
Bestsellers
Sale Item
Currency

Product Details
Overview
8-Channel Relay Board
Please Note: Large Quantities may have a longer lead time. Please email us for details: terry@yourduino.com
See more details, applications on our WIKI here:
With high-current relay, AC250V 10A ; DC30V 10A Size: 7 X 4.9 X1.8 (high) cm
USE: Connect +5V and Gnd to Arduino, Connect Arduino output pins to J5 2,3,4,5,6,7,8,9 NOTE: Set pin LOW to turn on relay, HIGH for off.
NOTE: The digital inputs from Arduino are Active LOW: The relay actuates and an LED lights when the input pin is LOW, and turns off on HIGH. See the Wiki article for how-to assure relays do not activate at power-on time
NOTE: Each relay draws about .08A (80 Ma) when on, so if all 8 relays are actuated the board needs about 8*80 or 640 Ma (.64 amps). A 5 Volt 1 A supply would be good.
Schematic Diagram (8 channels like this): (Click PHOTOS, above, for complete diagram..)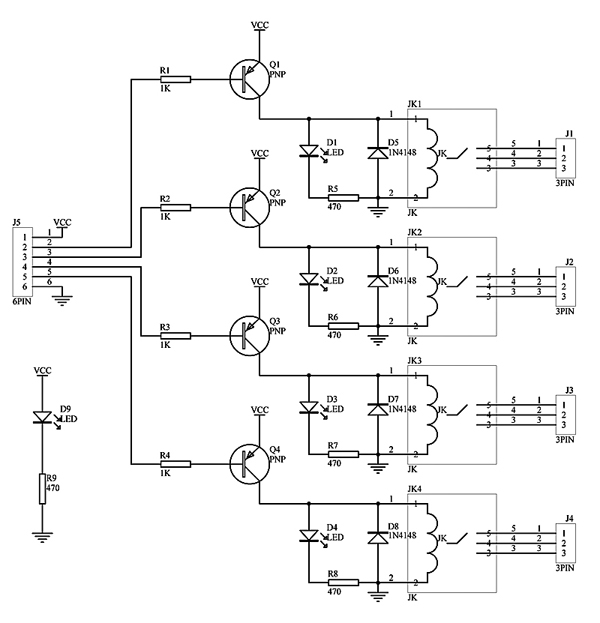 Please Read This Electrical Safety / Disclaimer page before using the relay board in this product.
Tell a Friend