Cart Contents
Your cart is currently empty
Subtotal: $0.00
Categories
Bestsellers
Sale Item
Currency

Product Details
Overview
USB TO TTL/RS485 Interface

This module interfaces USB to RS-485. It has Auto Direction control, making it easier to use as RS-232/TTL Serial Interface replacement.
RS485 is used for Serial Communications over longer distances than direct RS232 or TTL, and supports multiple units on the same bus (Multi-Drop)
Compliant with the USB 2.0 standard, backward compatible
Compliant with the RS485 standard
Direction control: automatic identification and control of the direction of data transmission
Baud rate :300-9216000bps ,Automatically detecting the serial signal data rate
Supports point-to-multipoint, this converter can connect to 32 RS485 interface device
Interface protection: TVS tube protection, USB recovery protection
Supports Windows98/ME/2000/XP/WIN7/Vista for Linux, Mac
This converter provides two way serial communications signal conversion between the RS485
to and from a personal computer USB port using virtual serial COM port. Can have up to 32 devices on the bus.
The 4 jumpers connect the USB interface to the RS485 interface. If the jumpers are removed, the USB interface may be used as a TTL Level Serial port.
The drivers for Windows can be loaded by this program from FTDI:
http://www.ftdichip.com/Drivers/CDM/CDM20830_Setup.exe
Plugging the USB interface in then should show a Virtual Serial Port in Device Manager.
Self-powered from USB Uses FT232RL+75176 chips
Can be used to connect PC to one or more Arduino or other Microcomputers with RS-485 modules.
We can supply THIS module for use with Arduino boards as in diagram below (Click)
Can also support other devices with an RS485 interface. Examples: surveillance cameras, video capture, fingerprint attendance machine, PBX, CNC machines, etc.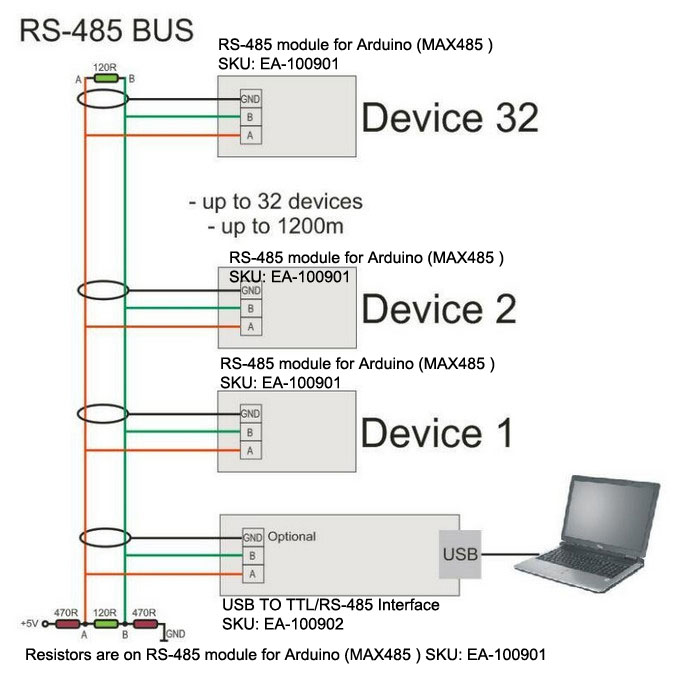 Tell a Friend